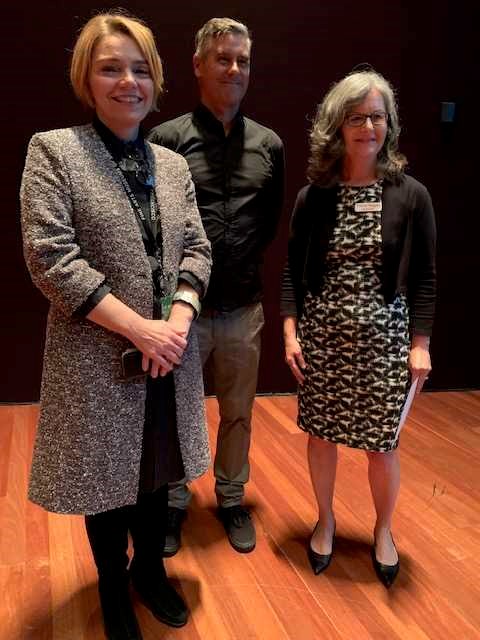 Shelia Pressley, Director of Education, FAMSF; Sandow Birk, Guest Speaker; Tricia Hagey, Docent Council Chair
Her husband, Russ, has helped perpetuate her legacy at the museum through a generous gift to the Docent Council in 2018. The gift supplements the Docent Council Education Programs in a meaningful and tangible way, going far to add enrichment to the continuing education designed to familiarize all docents with the collections. Many docents, family and friends also contributed to this fund. In all, some 963 volunteer docents have been trained through the Docent Council Education Program. The Council was established in 1966 with 200 docent volunteers trained to give tours of the permanent collections and special exhibits at the deYoung and Legion of Honor museums. Even today, some 200 specially educated docents delight visitors each day with the tours they personally create and deliver to visitors of all ages. "We believe Mary Beth would have been overjoyed in creating this opportunity to connect renowned contemporary artists with the Docent Council Corps she so dearly loved" adds Hagey.
Sandow Birk, Artist, Guest Speaker
Birk's talk and the reception which followed were well attended and highly successful. Beyond a shared love of art history and painting was a burning interest in his process in mysterious works such as silvery blue landscape, Fog Over San Quentin. A favorite stop on tours, it hangs alongside the finest 19th century American landscapes in the De Young museum's collection: Bierstadt, Church, Durand, Keith. All are counted among Sandow's heroes.
Sandow Birk, "Fog over San Quentin State Prison, San Quentin, California (from the Prisonation series)," 2001. Oil and acrylic on canvas, 66 x 90 in. (167.6 x 228.6 cm). Museum purchase, American Art Trust Fund, 2002.7
He explained he revisited these sublime and pastoral masterpieces and journeyed to some 33 of California's prisons to explore the contradiction of selling westward expansion with crushing prison overpopulation. "I remember driving on the L.A. freeway and hearing on the radio that California has the highest percentage of people in prison of anywhere in the world," Birk recalls. "What happened in the 150 years since they were talking about gold in the ground and orange trees and warm weather and painting this Eden?"
Birk, 57, lives in Los Angeles, and has surfed daily in southern Cal beaches since childhood and says he gets his best ideas when he's in the water. Those salty imaginings first sprang during visits to the Louvre while attending Parsons Paris in the 1980s where he was introduced to monumental works. "It was amazing to see these grandiose paintings of the neoclassicists from France, learning about times when people would stand in line to see them," he recalls. Tweaking the adage write what you know, he began painting what he knew, copying masterpieces and interjecting male surfers into his own version of works by Reubens and Gericault. A slide show of his early paintings drew huge laughs from the docent audience, yet he clarified that beyond the obvious humor is a maritime culture of men who explore the sea and watch the swells just as sailors of yore.
. Outside Set at Malibu, oil on canvas, Sandow Birk, 1989 Raft of The Medusa, Théodore Géricault, 1818-1819