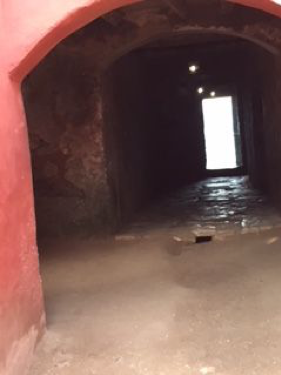 "Door of No Return" where slaves entered to board slave ships to America
Holding place for women slaves
Iron shackles used to restrain the slaves
While on Goree Island I also had the opportunity to visit a boarding school for girls, called Maison d' Education Mariama Ba, where the staff served me the local dish, Thiep bou dieune (fresh fish and rice). Another must see for a magnificent view of Dakar is the plaza on top of one of the twin hills known as Collines des Mamelles, to visit the 49-meter-tall bronze statue, African Renaissance Monument. Overlooking the Atlantic Ocean, it is the tallest sculpture in Africa. It was designed by the Senegalese architect Pierre Goudiaby to celebrate the 50th year of independence from France.
African Renaissance Monument
Other information: The new Dakar International airport is about 1 hour from the city. Dakar is not a walkable city, as most drivers ignore the traffic lights and there are almost no street signs. However, you can call a taxi for travel around the city from most hotels for a cost of about 3000-5000 CFA ($5-$8). It is better to have the hotel staff call on your behalf. I had a driver, thanks to the organization which sent me to Senegal. The driver also acted as my guide around the city and even negotiated prices on my behalf at the Sandaga Market, where I purchased African clothes and souvenirs. Dakar also has expensive high-end indoor malls like those in the States.
Throughout the city there is a mix of old world meets modern world with cars and horse-drawn wagons sharing the paved and dirt roads. There are luxury high rise buildings and shack homes next to pens of live lambs. There are many good restaurants and cafes in Dakar, I ate at one called Katia. However, while in Dakar I only drank bottled water.
I have had the opportunity to travel all over Europe and the Far East, but this was my first trip to the African continent. Senegal was a wonderful country for my first visit. I'm looking forward to going back!